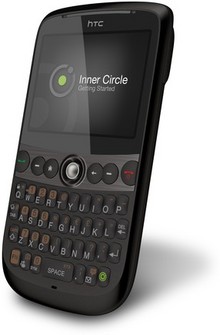 I've now had my T-Mobile Dash 3G for nearly a month, and I can say that it is a very useful little mobile computing platform for someone who doesn't need all the power of an iPhone (and who doesn't what to pay the AT&T tax on mobile computing). After a month of use and thought, I thought it was time to update my first impressions.
The Good
Active Sync works like a dream with our work Exchange 2007 Server
Evernote Mobile is great for collecting stuff and works flawlessly.
Skype Mobile over WiFi rocks, and will be very useful if I ever get to travel outside the US and Canada again.
Threaded SMS conversations remind me of the old Treo 600 I once had. It is a nice touch that the Blackberry really didn't do well.
The Bad
I'm not always sure where I am in the interface. The Windows Mobile platform that the Dash 3G uses makes it darn difficult to figure out where you are and how to get to where you want. I sometimes find myself navigating through a number of layers to find out how to get back to certain apps.
Files? Where are my files? It shouldn't be this hard to figure out where images/videos/audio files are stored by the default applications.
Camera can too easily be set to video mode, and it is not intuitive how to switch it back to camera-only mode.
Lack of native Google Mobile app for email. I loved the GMail app for Blackberry. The only option I appear to have on the Dash 3G / Windows Mobile platform is their native IMAP client which is a clunky hack, IMHO.
No intuitive way to sync Google and Active Sync calendar and contacts, a la Google Sync for the Blackberry.
No intuitive way to join PEAP WiFi networks. The wireless network at my office uses PEAP to authenticate, which Windows Mobile, despite being a Windows-like product, appears to have no clue about. I have helped at least one person setup their iPhone to join the PEAP network without difficulty.
The Ugly
Why can't the Shortcut key launch any app, not just the ones Windows Mobile wants you to launch. Mobile IE sucks compared to SkyFire, but I can't immediately start SkyFire without going through those nasty, non-intuitive Windows to find it.
Why is sending an MMS so hard? It isn't clear if you are doing the right thing, and I'm never sure if the damn thing has worked properly. This is a key functionality that needs to be fixed, ASAP.
Why offer the option to check for Windows Mobile Updates if you can't connect to the server?
And, despite trying to hide it, it is still Windows. Occasionally apps just crash without warning, especially if the device has been on for more than 3-4 days continuously. I only had to restart my Blackberry when installing some apps and updating the firmware/OS.

As a smartphone, it is a good starter phone.
However, I am having some pretty large pangs of envy and regret about the myTouch, with full knowledge that the Android OS is not yet ready for the modern office environment, i.e. no ability to Active Sync. If Android gets Active Sync capabilities anytime soon, I will truly regret my decision to go with the Dash 3G.
Ratings:
OS: 4/10 – Still Windows. Can we hack Android with Active Sync onto this platform?
Apps: 4/10 – Complex menus. Lack of an App Store location or interesting/goofy utilities. Lacking Google apps (Google Sync and an independent GMail app).
Hardware: 7/10 – No light for the camera, keyboard a little small for Jolly Green Giant Hands, proprietary HTC plugs for headsets and power
Call Quality: 8.5/10 – Some fade out in quality when switching from 3G to EDGE
Data Quality: 5/10 – Mostly because I paid for 3G and I'm getting EDGE/GPRS in the Boston 'burbs. T-Mobile's slow roll of their 3G infrastructure shows